Levodopa Cyclops™ is a levodopa dry powder inhaler for the fast and reliable relief of OFF episodes in Parkinson's disease. As such, Levodopa Cyclops™ answers a major unmet medical need.
Levodopa is the cornerstone in the treatment of Parkinson's disease for well over 50 years. It is the most effective, safe and well tolerated drug available to this end. However, patients suffering from Parkinson's disease invariably will encounter a major unmet medical need as the disease progresses:
Patients in mid- and late-stage disease suffer from variable therapeutic efficacy, which results in periodic motor-fluctuations (ON and OFF episodes).
Patients with acute OFF episodes need fast and reliable rescue therapy to be able to participate in daily activities.
Currently available medication either has a slow or unpredictable onset of action or is poorly tolerated and uncomfortable to use.
Inhaled levodopa from the Cyclops™ offers Parkinson's disease patients easier and more convenient handling, a faster onset of action and more flexible dosing than other treatments to counteract OFF episodes.
Studies showed that Parkinson's disease patients are able to readily use Levodopa Cyclops™ during an OFF episode. Inhaled levodopa from the Cyclops™ results in a peak plasma concentration within minutes and its absorption is less variable than that of oral levodopa, both of which are prerequisites for the rapid and predictable relief of OFF episodes.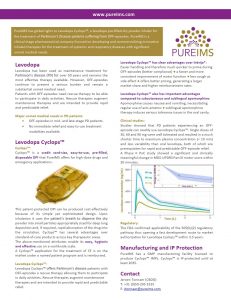 Undisclosed Cyclops™ developments
In addition to in-house programs, we aim to co-develop products with partners who are pursuing NCEs and/or repurposed medicines for local or systemic application. In this respect, PureIMS collaborates with several companies. PureIMS has GMP facilities for the clinical-scale manufacturing of Cyclops™-based products. The Cyclops™-formulation process is scalable and the company has built good relationships with several major developers of market-scale production lines.